International and Domestic Boats and Yachts Shipping
For many boat owners, the hardest thing about yacht and boat transportation is leaving their pride and joy in someone else's hands. For others, yacht transportation becomes an obstacle and a deal breaker when buying a boat outside of their home region. As boat owners ourselves, we completely understand.
When we opened our yacht transportation division, our aim was to address those concerns and to offer our customers an efficient and reliable yacht transportation services to and from Canada. Our approach emphasizes attention to detail, personalized service, which caters to every boat owner's specific needs and the requirements for his/her specific boat. Your boat's transfer is completed in close consultation with you. We are always just a phone call or email away to solve any issues or concerns because shipping a boat does not have to be a hassle.
Our well-established network of boat shipping professionals and ship owners across the globe guarantees you access to hundreds of ships, latest equipment and technology and the most experienced personnel. This allows us to provide the safest, fastest and most secure boat transportation services for your needs.
We handle every requirement from pick-up to delivery so you don't have to. Simply sit back, relax and we will bring your boat straight to you, anywhere in the world. You can always track the current location of your yacht in real time. Best of all, enjoy this privilege at some of the most competitive boat transport costs across the world.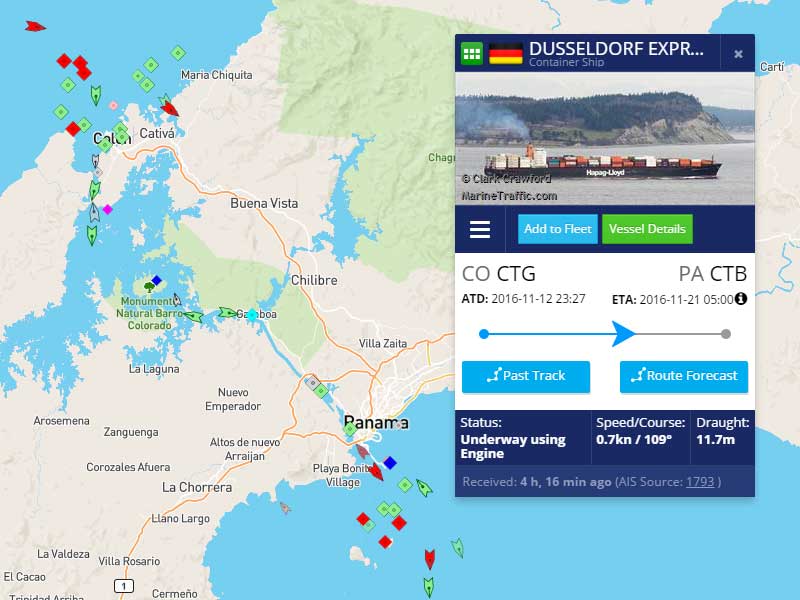 Get a Quote
We prefer not to overwhelm you with lots of questions. Just let us know what and where you need to ship and in most cases we can provide you with and order of magnitude cost. Feel free to add any details which you think might help. We will contact you if we require any additional information.
Lift On – Lift Off Method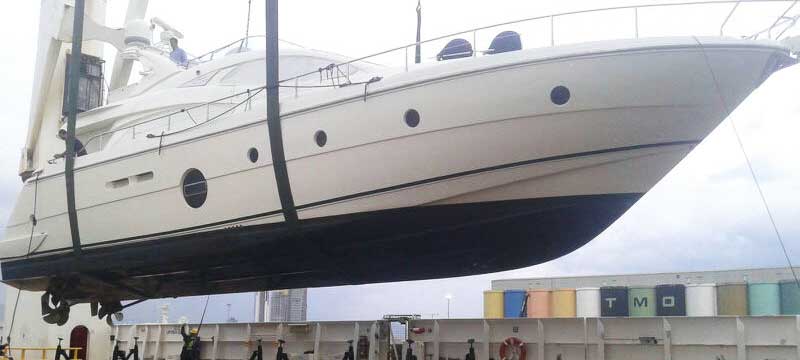 The Lift On – Lift Off method of yacht transport is ideally suited for vessels ranging from 32 ft. to 150 ft. in length and up to 900 metric tons in weight.
In this boat transport method:
Your boat is brought alongside the transport ship via water on its own power
Heavy Duty Slings / Lifting Straps are placed by Divers under the hull of your boat along designated lifting points
The slings are attached to spreader bars and special ship mounted cranes used to lift your boat out of the water
The crane sets your boat down onto a custom-built cradle on the transport ship
Your boat is lashed securely to the cradle and the deck of the transport ship
Upon arrival at the destination, this procedure is reversed to discharge your boat
SV Business Group employs heavy lift ships for Lift On – Lift Off yacht shipping projects. Custom-built cradles are used to ensure that your craft is always safe and secure.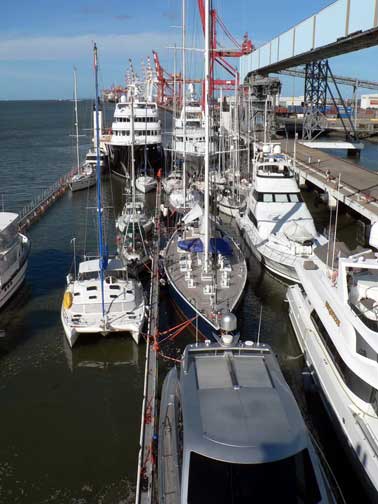 The Float On – Float Off (semi-submersible) method of yacht transport is very versatile. There is virtually no limit to the size and shape of yacht that can be transported using this method.
In this boat transport method:
Your boat sails normally until it is alongside a specialized transport ship
The transport deck of the ship is submerged allowing yachts to simply float over the submerged portion of the carrier to its designated position
Special Cradle systems are placed by divers under water
Water is slowly released and deck emerges back securing all boats on board in cradles.
Upon arrival at the destination, this procedure is reversed to discharge your boat
Roll On – Roll Off Method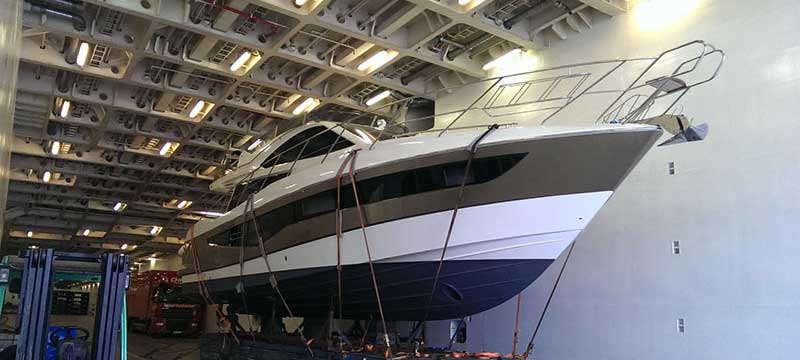 The Roll On – Roll Off method is especially attractive and safe because your yacht is transported inside enclosed ship entirely protected from sea and weather elements throughout the journey. This method of yacht transport allows vessels between 17 ft. and 65 ft. in length, and up to 20ft in overall height on certain ships with high door clearance.
In this boat transport method:
Your boat is taken on its own trailer to the loading dock alongside the transport ship
The trailer is rolled through the ship's door opening into the storage compartment
Upon arrival at the destination, this procedure is reversed to discharge your boat
Boats without their own trailers can also be transported using special flatbed, many or lowboy trailers provided by vessel ops and designed to accommodate boats on cradles as well.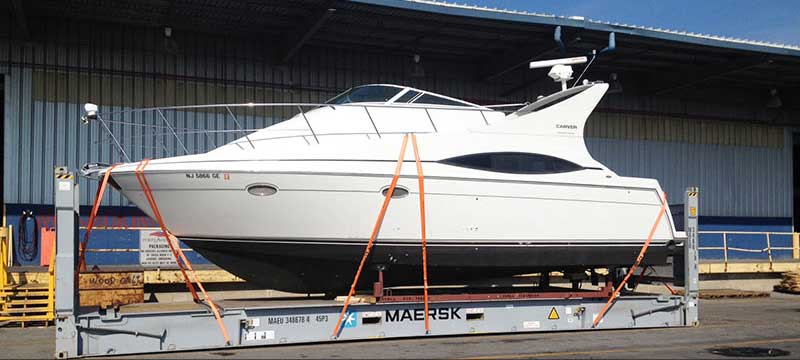 The Flatrack method of yacht transport is ideally suited for a wide variety of boat designs, which are up to 45 ft. in length. This method is popular because of its simplicity, flexibility of schedules relatively low costs.
In this boat transport method:
Your boat is loaded and secured onto a special transport platform called a Flatrack
Flatrack is lifted to transport ship and secured on deck between containers
Upon arrival at the destination, the boat is simply unloaded
Due to the popularity, low cost and high demand of Flatrack service for smaller and medium size boats, SV Business Group offers this service connecting all major ports and marine highways worldwide.
Liner Services (Breakbulk)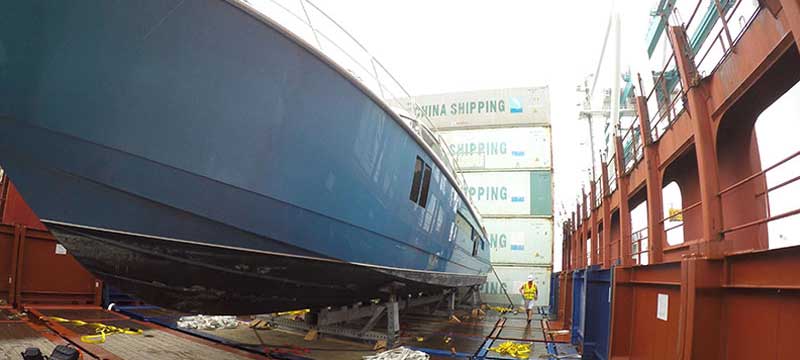 Breakbulk yacht transport method is used when transferring boats utilizing container or mixed cargo ships. This method is designed to allow flexibility of weekly on demand sailings from all major ports – no wait time. Containers may be placed around boats to protect and shield them from exposure to open water or weather while underway at sea.
In this boat transport method:
Powerful gantry cranes or shore cranes are used for receiving and loading yachts ex water or ex quay onto the transport ship
Once lifted, boat is placed and secured to custom built cradle on deck and lashed down for transport.
Upon arrival at the destination, this procedure is reversed to discharge your boat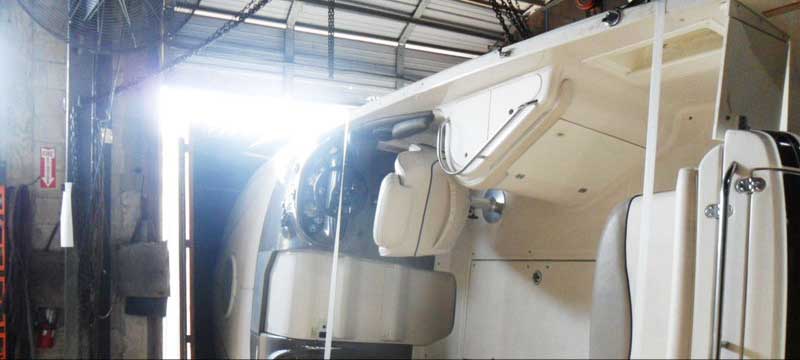 Transporting boats in 40 ft. containers is arguably one of the most cost-effective methods and also provides good security. The inside door clearance and dimensions of the containers limit total boats size not to exceed 38' in overall length and 7.8ft in beam (this refers to the dimensions after towers, arches, windshields and other similar structures have been dismantled).
In this boat transport method:
Your boat is prepped by experienced loaders who dismantle additions to the superstructure
The boat is stowed securely inside the container
The container is transported onto the ship
Upon arrival at the destination, this procedure is reversed to discharge your boat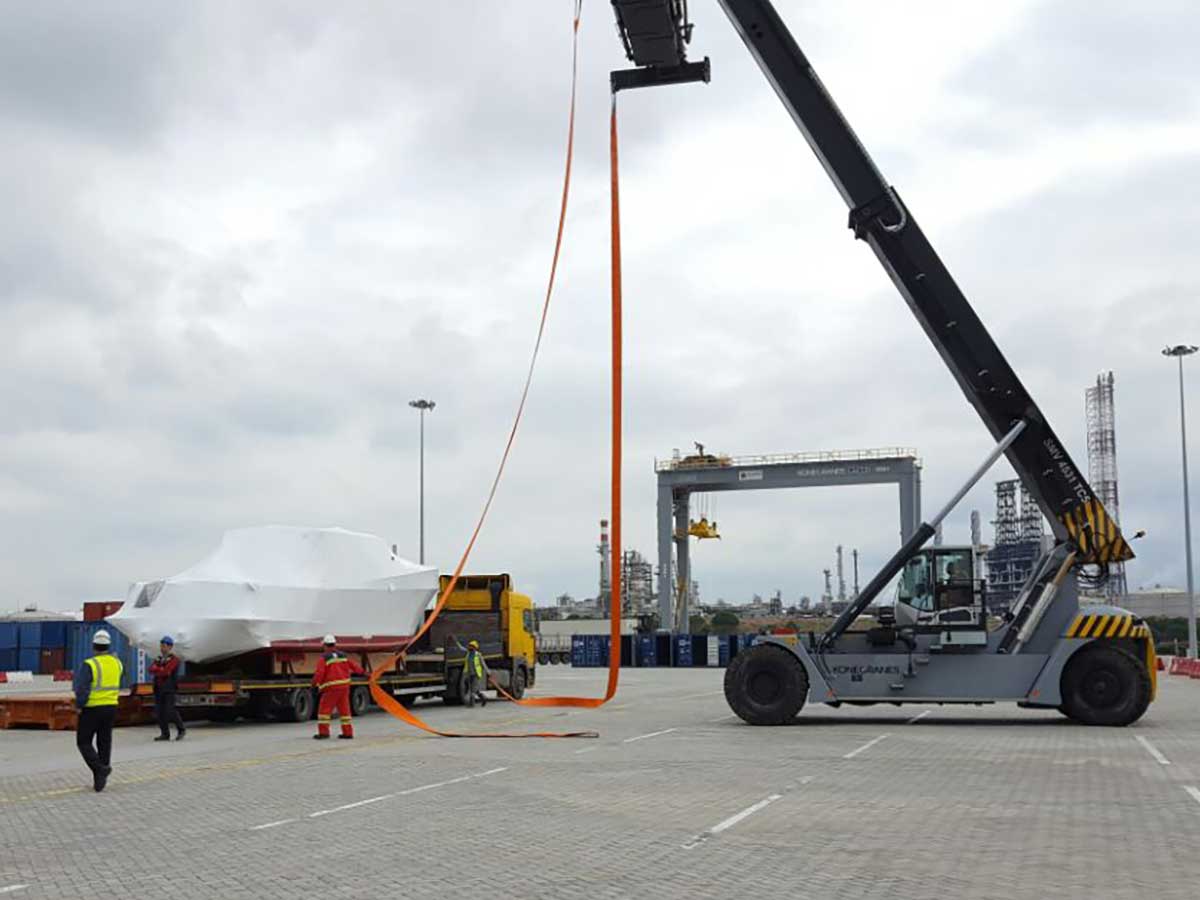 Windsor Craft 36′
From: Istanbul, Turkey
To: Vancouver, BC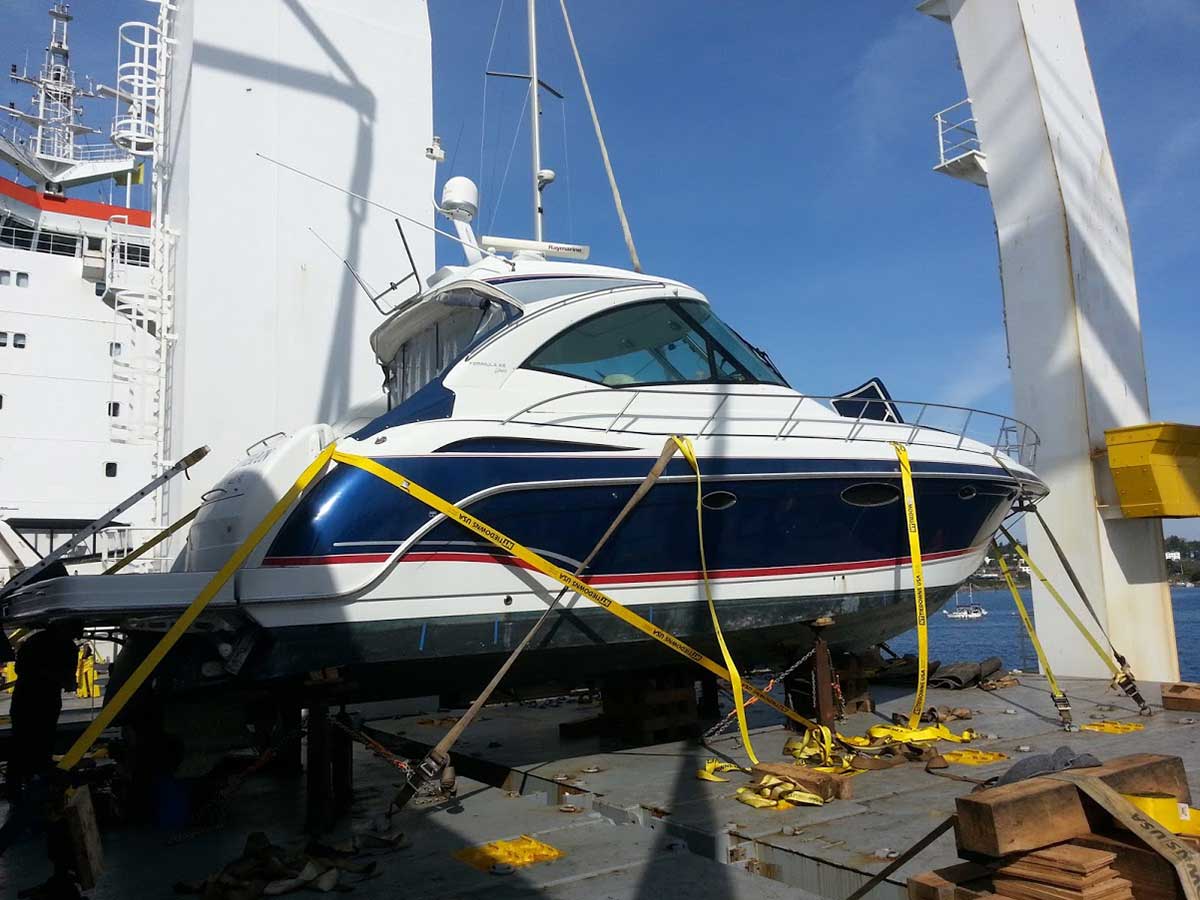 Formula 45′
From: Fort Lauderdale, Florida
To: Vancouver, BC
Boats and Yachts Transport and Shipping in Canada